Lost Wax Casting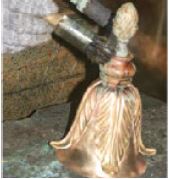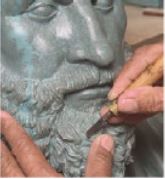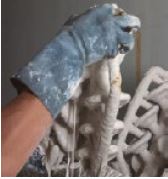 From its inception, the technique of lost wax casting has remained the preferred process of jewelers, sculptors and artisans. The process was developed by the Greeks and Romans and has remained in use since its beginning. The many-step technique begins with a finely carved wax model. This wax model is then surrounded by a special form of concrete which is extremely fine in consistency. This allows the concrete to capture all the detail of the original wax version.
As the concrete dries, two different holes are carved into the material to facilitate casting. The mold is then allowed to harden and cure.
The concrete mold is then filled with molten metal, which in turn melts the original wax model which drains away using a narrow exit hole. When the mold cools, it is broken open to reveal a finely cast metal object which was once wax. It is at this point a hand applied finish is added. Among our most popular finishes are verdigris, aged brass, dark bronze and burnished bronze. All Maitland-Smith castings are molded in brass and other fine metals.
Hand Painting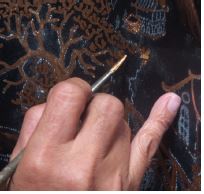 Our artisans continue the skills of the 17th and 18th century's ateliers. Hand painting is undeniably among these traditional crafts. Unlike machine aided copies or replicas, original work like hand painting is regarded as a unique expression of an artisan and of greater value. The talented artisans in our ateliers possess the painting skills of their 18th–century counterparts. Attributes like attention to detail and eye-hand coordination are key. Technical virtuosity is the personal signature of the artist. An expertly handled brush can make techniques like dry-brushing, color blending and feathering seem effortless and original.
Hand Carved Wood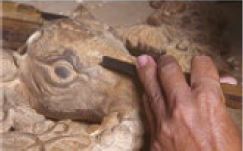 Perhaps the most demanding skill in the rich tradition of craftsmanship is hand carving. Archeologists can date early surviving examples over three thousand years old. Fantastic wooden objects have been uncovered in Egyptian tombs alongside jewel encrusted gold and silver artifacts. Other examples date from the Middle Ages, primarily ecclesiastical figures.
The Renaissance was the setting for the reawakening of the decorative arts. Specialized guilds of artisans were formed to advance and protect particular skills. Carvers guilds arose throughout Europe alongside goldsmiths, jewelers and other similar trades.
The richly ornamental styles of the 17th and 18th centuries are a testament to the caliber of craftsmanship available. Our carvers use the same tools and techniques as their 18th-century counterparts. After years of training, their skills are applied to a wide variety of Maitland-Smith items. Examples include our hand carved mahogany dining chairs, occasional chairs, mirror frames and numerous decorative objects.
Marquetry & Parquetry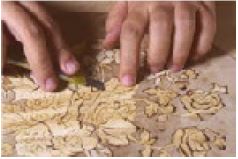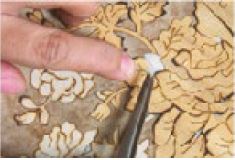 As highly regarded traditional furniture crafts, these handcrafted inlay processes began in Germany and Holland.
In the hands of a trained artisan, shaped veneered wood or other suitable material is applied to a furniture frame, forming a mosaic-like pattern or image on the surface.
Marquetry may be floral, or an arabesque, but it must be curvilinear. If the pattern is geometric, it is called parquetry. Both are traditional decorative techniques which add intrinsic value to fine furniture. By the 17th century marquetry in particular reached new heights of skill and innovation, and was prized by patrons of the era. The use of the process was further advanced by the importation of rare and exotic woods from around the world, unique to Western Europe.
Exotic Shell Inlay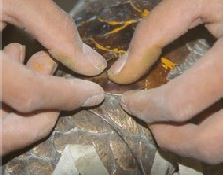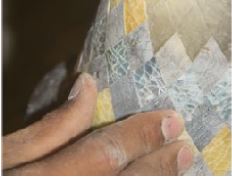 The use of exotic seashells has a long history in the decorative arts. Many have strong visual appeal, are durable and can be cut and polished.
The shell's durability lends itself to veneered surfaces and inlaid accents. The wide variety of types available provides a stimulus to creativity and innovation.
At Maitland-Smith we use a variety of shells in traditional and innovative ways. As a complete veneer covering an entire object, either solid or fashioned into patterns, it is labor-intensive with each piece cut, fitted and hand polished. Our artisans have over 30 years experience working with exotic shells and related skills. As a design leader, Maitland-Smith was the first to offer young penshell as a translucent material for lamp shades and other lighting forms. We developed a method of inlaying translucent young crackled penshell onto molded berglass forms creating a new use for a beautiful natural material.